Regular price
Sale price
$11.54
Unit price
per
Sale
Sold out
We have 5 in stock
A natural oil blend to relieve dry, itchy and sensitive scalp. A healthy scalp is key to keeping hair healthy and preventing hair loss.
INGREDIENTS: Cold Pressed Castor Oil, Peppermint Essential Oil, Tea Tree Essential Oil, Lavender Essential Oil
Amount: 100ml
DIRECTIONS: Part hair into sections and apply few drops to scalp and massage in to relieve itching or dryness.  This product is for hair use only. Do not pour oil on the head. Use oil in adequate quantity only. Massage into scalp for 10 to 15 minutes with fingertips or scalp massager, to improve blood circulation.
Steaming can also help the hair to further absorb the oil.
Castor Oil is non-comedogenic oil, meaning that it will not clog your pores. It has anti-bacterial and anti-inflammatory properties so it helps in scalp maintenance and balance. Peppermint Oil provides freshened smell and tingly sensation on the scalp. Tea tree Oil deals with itchiness, dandruff, and dry scalp. Dirty and clogged pores can be the reason for hair loss and dandruff.
Tips for Treating your Scalp:
Wash your hair with Mango Twist Shampoo and Conditioner. Mix 2-3 tablespoons of Apple Cider Vinegar with a glass of water. Pour the mixture over your hair evenly, working into your scalp. Let it sit for 10 minutes.
Apple cider vinegar will help keep your scalp protected from bacteria and keeping a balanced pH level. Rinse hair with cool water and apply Naiga Naturals Scalp Massage oil blend.
This will ensure the maintenance of healthy scalp.
Share
View full details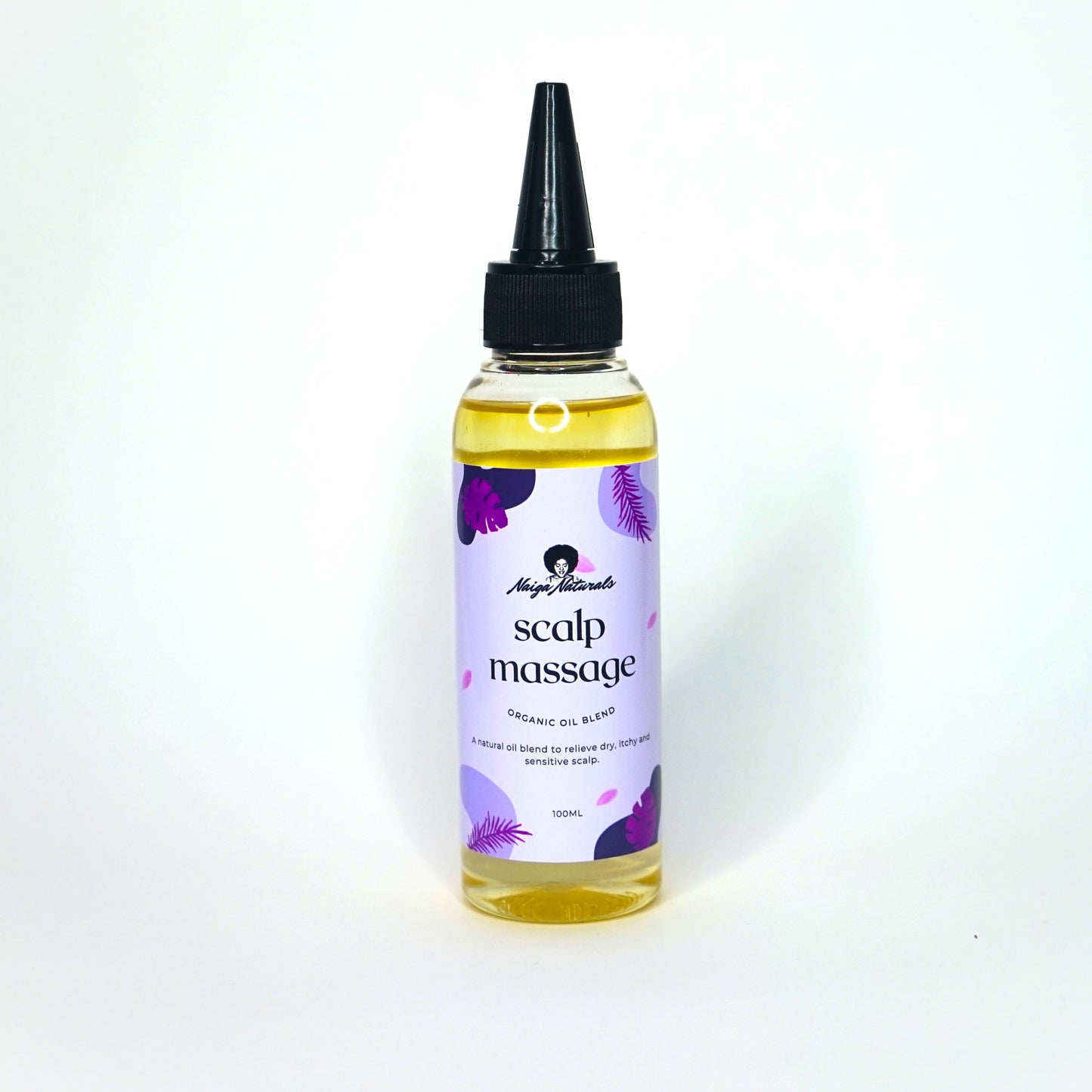 Great product!
Package came earlier than expected, the massage oil came in a nice applicator bottle that made it much easier to apply to my scalp. It was light but still left my scalp feeling nourished and enriched! High recommend!