Regular price
Sale price
$18.61
Unit price
per
Sale
Sold out
A fragrance free, natural moisturiser for both skin and hair.
INGREDIENTS: CERTIFIED ORGANIC SHEA NILOTICA (Vitellaria Nilotica) & 100% PURE COCONUT OIL (Cocos Nucifera), Vitamin E
- 100% Chemical Free, no chemicals used in production
- Cold Pressed ingredients
- Premium Quality micron-filtered to 100% purity
- Whipped soft texture
Amount: 400ml
DIRECTIONS: Skin - Apply a small amount onto skin until it is absorbed. Repeat if needed. Ideal for sensitive skin. Hair - Apply a small amount to damp hair to lock in moisture and style as desired.
• Shea Butter helps prevent skin dryness and protects against sun damage. With regular use, it can treat many skin problems.
• Coconut Oil is a perfect leave-in treatment to repair split ends, moisturize your scalp, and add a healthy glow to your skin. This product will typically last up to a year as long as it is kept dry and with the lid on when not in use.
Share
View full details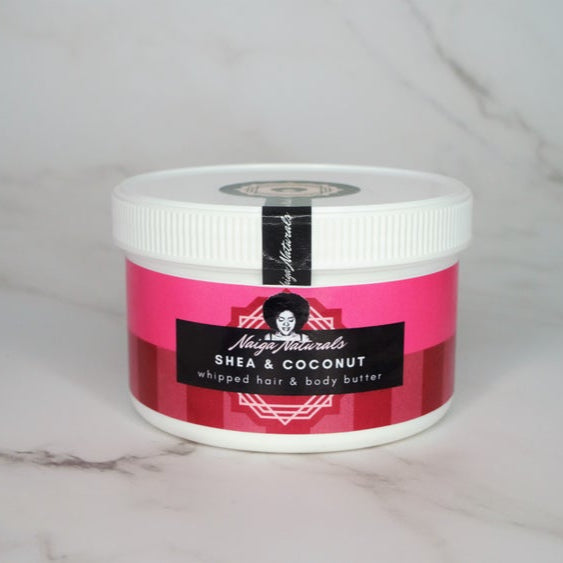 A haeling balm full of NUTRIENTS!!!!
This body butter has so many benefits for both skin and hair. It is both a moisturiser and a remedial aid for blemishes etc. An essential part of my self care routine....
I adore this formula
This is where Naiga Naturals excels! the body butters are all premium. I own all of the body butters and they are all phenomenal.